Jewellery Cleaning and Polishing Dip
This fantastic jewellery cleaner means you can keep those jewels sparkling from home. 
Gold is best used on 9ct or above gold jewellery. 
Silver is best used on 925 Sterling Silver. 
Please read the instructions before putting any LoveHate jewellery into the dip. If you aren't sure if a piece can be cleaned with the dip, please contact us for help.
About Handmade Jewellery
Materials & Care
Shipping
Returns
About Handmade Jewellery
Materials & Care
Shipping
Returns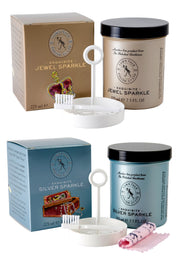 Jewellery Cleaning and Polishing Dip